Exquisite French Roast Coffees: A Guide to Finding the Perfect Brew
Coffee lovers around the world can attest to the power of a good cup of French roast coffee. The rich, deep flavors and smoky notes make it a favorite among those who enjoy a bold and robust brew. But what makes French roast so special? In this article, we will delve into the science of roasting and explore the secrets behind the best French roast coffee beans. Additionally, we will present our top five picks for the finest French roast coffees, along with a roasty ranking that will guide you to the perfect cup. So, if you're curious to know how a French roast compares to other roasts or simply seeking some advice before making a purchase, keep reading to discover the best French roast coffees and the things to look out for to ensure an exceptional coffee experience.
The Science behind Coffee Roasting
The process of roasting coffee beans involves various levels of roast, and individuals have different preferences when it comes to the darkness of their coffee. Light roasting encompasses several shades, while darker roasting techniques have given rise to a wider range of names and techniques.
What Makes a Dark Roast Coffee the Best?
Dark roasting techniques have gained fame in different regions around the world. Some notable dark roast techniques include:
French roast, in particular, stands apart due to its intense darkness and strong flavor, without compromising the beans' unique characteristics. The roasting process requires meticulous care to prevent the beans from becoming overly charred.
Achieving an optimal roast level involves adhering to specific guidelines. These guidelines are crucial to follow because the beans are exposed to high temperatures of up to 250°C (482°F), with French roast typically roasted at around 240°C (464°F). Any deviation from these guidelines can result in an over-roasted cup of bitter-tasting coffee, which is something none of us want, especially during important occasions like a date or a business meeting.
If you remember the unfortunate incident of the "Bitter Beer Face" that went viral, the facial expression elicited by over-roasted coffee is strikingly similar!
Our Top 5 French Roast Coffee Beans
During our extensive research, we have found several potential candidates for the title of the Best French Roast Coffee Beans. Among these, we have carefully selected the following five based on their exceptional qualities that make them stand out from the rest.
1. San Francisco Bay
San Francisco Bay has gained recognition on The Coffee Bean Menu website in the past due to its consistently positive reviews. As one of the highest-quality coffee beans we have encountered, they offer two exceptional products within the French Roast category:
1A) San Francisco Bay French Roast Fresh Whole Bean
This classic French roast brand uses hand-picked Arabica beans, which exude a robust and delightful aroma as soon as you open the bag. The rich flavor profile is punctuated by notes of caramel and chocolate, resulting in a full-bodied coffee with medium acidity. It's an excellent choice for those seeking a pleasant room-filling fragrance and a smooth, enjoyable cup of coffee.
1B) San Francisco Bay OneCup, French Roast, K-Cup
While not whole beans like the previous product, the San Francisco Bay OneCup offers a convenient and equally satisfying option. With a smoky and intense flavor, this K-cup version provides an energizing and aromatic experience. It has received over 26,000 reviews on Amazon, maintaining an impressive rating of 4.6 out of 5.0. Compatible with traditional Keurig coffee brewers, it offers a time-saving solution for your daily caffeine needs.
2. Koffee Kult Thunder Bolt Whole Bean Coffee
Koffee Kult Thunder Bolt Whole Bean Coffee is an excellent choice for those who enjoy a robust and strong cup of dark coffee. The combination of Brazilian and Colombian beans results in an exotic and artisanal flavor. What makes these beans even more outstanding is their production process, which ensures the absence of any chemical contaminants. Packed in a resealable bag, these beans stay fresh and maintain their exquisite taste.
3. Eight O'Clock French Roast Whole Bean Coffee
Eight O'Clock has been delivering unmatched coffee quality for over 150 years, making them a trusted brand among coffee enthusiasts. Their French Roast Whole Bean Coffee stands out thanks to its robust and smoky flavor profile. The 100% Arabica coffee used in this product guarantees an exceptional taste experience. Packaged in an easy-to-open bag, these beans are a cost-effective option without compromising on quality.
4. Starbucks French Roast Whole Bean Coffee
Starbucks is a polarizing name when it comes to coffee, but their French Roast Whole Bean Coffee offers a departure from the usual opinions surrounding the brand. Consumers find the flavor robust, bold, and rich, with smoky undertones. While this roast is strong, it avoids the bitterness typically associated with dark roasts. The full-bodied and mellow character of this coffee is complemented by its low acidity. Whether you love or dislike Starbucks coffee, this French Roast might pleasantly surprise you.
In selecting the Best French Roast Coffee Beans, we have taken into account various factors, including taste, aroma, quality, and customer reviews. Each of these five products exceeds expectations and promises a delightful coffee experience.
Roasty Rankings: The Finest French Roast Coffees Around
Discover the process behind creating the delicious and savory French roast coffee, and explore the best options available on the market today.
Peet's Coffee Organic French Roast
Indulge in the smoky and sweet notes of Peet's Coffee Organic French Roast, where dark chocolate and burnt sugar flavors enhance every sip. Made from Latin American Arabica beans, this bold and complex coffee is perfect for those who enjoy intense, powerful flavors. Get yourself a bag of Peet's French roast, grind the whole beans with a conical burr grinder, choose your preferred brewing method, and savor the experience.
Caffe Vita Organic French Roast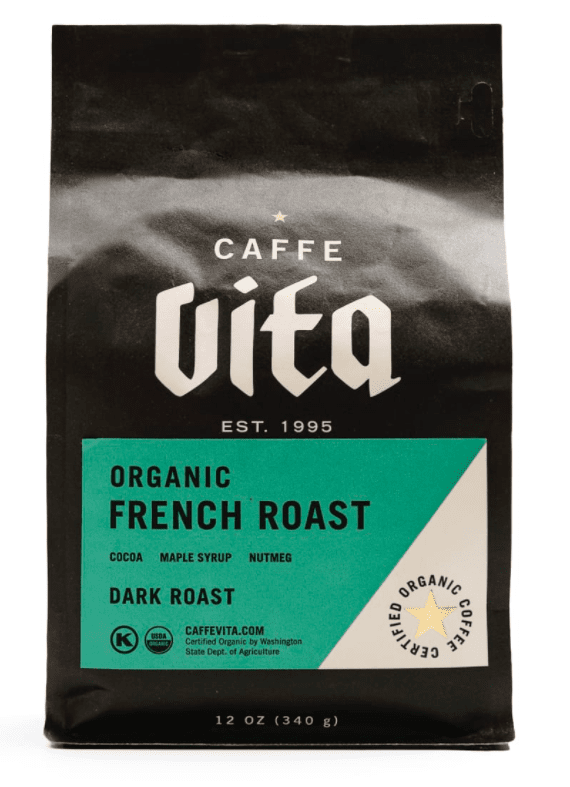 Experience a big-bodied and sweet French roast with Caffe Vita Organic French Roast. This dark-roasted blend offers roastiness, chocolatey notes, and caramel sweetness that come together harmoniously. Prepare to wake up to life with the smoky and burnt flavors of this Seattle-based brand's organic French roast, crafted from Central and South American, Indonesian, and African coffees. Enjoy the cocoa, maple syrup, and nutmeg undertones that shine through whether it's morning or afternoon.
Volcanica Coffee French Roast Coffee
Volcanica Coffee's French Roast is the darkest roast they offer, delivering a deep and smoky flavor. The beans are roasted using a unique method, allowing each batch to express its distinct flavor notes. This French roast boasts a visible layer of oil on the beans, which contributes to its rich and flavorful taste. Rest assured, all of the beans are grown above 3,000 feet in elevation to ensure the highest quality and flavor.
Portland Coffee Roasters French Roast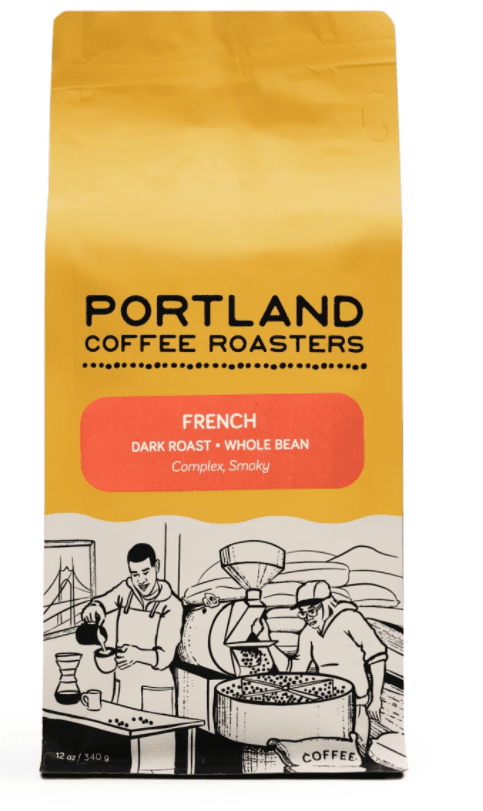 From Portland, Oregon, comes the dark yet sweet French roast by Portland Coffee Roasters. It features a dark chocolaty body and a caramel sweetness that shines whether you prefer to drink it black or with your choice of milk. This fan favorite blend has been crafted with care for two decades, ensuring a clean and delicious cup of coffee. Brew it using your trusty French press for the best results.
Solimo French Roast Coffee Pods
For a convenient and efficient way to enjoy French roast in the morning, Solimo French Roast Coffee Pods have you covered. Compatible with both 1.0 and 2.0 Keurig K-cup brewing machines, these pods deliver a deliciously smoky cup of French roast at the touch of a button. While not as dark as some other roasts, these pods provide a convenient solution for a quick caffeine fix.
Stumptown French Roast Coffee
Straight from Portland, Oregon, Stumptown French Roast Coffee is an organic dark roast blend with deep flavor tones and no burnt aftertaste. Roasted with hints of clove and bittersweet chocolate, this French roast is known for its consistency. Stumptown takes pride in their relationships with customers, ensuring you can enjoy your cup of coffee with peace of mind.
Bulletproof French Kick Coffee
Bulletproof's French Kick Coffee is a darkly-roasted French roast that delivers a bold and flavorful kick. With clean and bright flavors, as well as a full body and undertones of sweet chocolate and caramel, this brew is well-balanced and satisfying. Bulletproof takes great care in selecting and roasting their beans to provide customers with a consistently savory and top-quality coffee experience.
Starbucks Coffee French Roast
Known worldwide, Starbucks Coffee offers a French roast that is beloved by coffee enthusiasts. Whether you prefer a large bag of beans or convenient K-Cups, Starbucks has a French roast variant for everyone. These beans are characterized by their explosive flavor, full-bodied brew, and distinct sweetness, making them a popular choice for those who enjoy rich and robust coffee.
How does a French roast compare to other roasts?
French roast falls on the darker side of the roast level spectrum. Let's explore how it compares to other dark roasts:
Full City
Full City roasts are dark but don't possess the intense smoky-sweet flavor of French roasts. While French roast beans have an entirely oily surface, Full City beans only show a few visible oil spots.
Espresso Roast
There is some debate on how the "espresso" roast compares to the French roast. Some claim that it is slightly lighter, but in general, they are essentially the same. The beans in both roasts are very dark brown, shiny, and have burnt undertones.
Spanish and Italian Roasts
While the French and espresso roasts are considered dark, Spanish and Italian roast beans are even darker with a nearly black color and slick, oily surfaces. These roasts have a flat flavor profile with hints of charcoal. Due to the high heat involved, it's not as popular among roasters.
Things To Look Out For Before Buying
When purchasing French roast coffee, it's important to consider various factors to ensure the best quality:
Freshness
French roast coffee tends to spoil and turn stale or rancid faster due to its oily surface. To maintain freshness, purchase the amount you'll need for the week and store it in an airtight container until brewing. Smaller batches are ideal to avoid spoilage.
Lost Origin
The darkness of French roast overpowers the unique flavors of the beans' origin. The smoky taste prevails regardless of where the beans are sourced.
Bean Quality
Lower-quality beans are often used for French roasts to mask poor-quality coffee flavor with the strong roasted taste. Choose trusted brands that focus on roasting healthy and flavorful beans with close attention to quality control.
Unsustainable or Unethical
Cheap, low-quality beans used in French roast coffee may be unethically sourced, exploiting farmers and promoting unsustainable practices. Look for Fair Trade labels or research the company's transparency in sourcing and sustainability.
Bitterness
French roast beans tend to have a bitter taste due to carbonization of the fibers in the beans. Coarser grind and brewing methods like French press can help bring out sweeter flavors in lighter French roasts. Adding a pinch of salt to the grounds may also offset bitterness.
Clean-Up
French roast beans produce more oils, requiring more frequent cleaning of grinders and machines. This is particularly important if using an espresso machine with a built-in grinder, as the oils can clog the machine and lead to damage.
In conclusion, the art of roasting coffee is a true science, and the French roast is undoubtedly one of the most beloved and flavorful options. From its bold and robust aromas to its rich and smoky taste, this dark roast is a true indulgence for coffee enthusiasts. After carefully considering various factors such as origin, quality, and customer reviews, we have compiled a list of the top 5 French roast coffees currently available in the market. Whether you're a seasoned coffee connoisseur or just looking to upgrade your morning cup of joe, these exceptional French roast coffees are sure to satisfy your caffeine cravings. So, ditch the mediocre brews and treat yourself to one of these Roasty top picks for the finest French roast experience that will awaken your senses and transport you to the charming cafes of Paris. Remember, when it comes to choosing the best French roast coffee, don't settle for anything less than perfection.